COURSE EXPIRED
Download the flyer of the conference
Dear friends,
Here we are with the programme of our
11th edition of La Voce Artistica conference
.
As you would remember, the conference was born from an idea of
Franco Fussi
in 1999, as a biennal experience unique of its kind. Drawing inspiration from La Voce Artistica, these events raised more and more
interest towards voice education and professional care
.
Once again this year, we are proud and excited to announce a great selection of speakers and artists, and we are confident that we will keep up with the quality level achieved in the previous edition. And this year again, as usual, the conference will be held at Teatro Alighieri in Ravenna
from October 26th to October 29th
.
We will start by looking at the world of neurosciences applied to the perception and production of singing, with a particular attention for the intonation, held by prestigious international lecturers and neuroscientists such as Isabelle Peretz and Per-Ake Lindestad, and with a practical approach of Paola Folli and Francesco Rapaccioli. For the first time, we will deal with performers and space, with insights into postural and osteopathic rehabilitation issues. Serena Brancale will then be the protagonist of a one-man band performance. A short session, before the evening show will include the staging of two Baroque intermezzi with Peppe Barra as a special guest, will be devoted to Baroque vocality with maestro Aldo Tarabella, the composer, director and art director of Teatro del Giglio in Lucca, and with the participation of specialists in Baroque singing such as Sonia Prina, Monica Bacelli and Francesca Lombardi.
Friday will start with a long section on singers' health problems, from how to manage menopause, to obesity and gastroesophageal reflux, the effects of pollution on vocal health, the side effects of medicines normally used by singers, to conclude with the presentation of some devices for vocal warm-up. Speakers will be phoniatricians and teachers from Italy, Mexico and the USA.

In the afternoon, we will offer you a relaxing moment in which we will interview few artists (Karima, Alessio Boni e Pietro Ghislandi) on the subject of interpretation and imitation. The following session will be on scat, with Gegè Telesforo and Maria Pia De Vito. We also succeeded in having with us two amazing emerging vocalists from the Indian vocal culture, who attained a totally new vocal mix by merging Indian vocality with jazz and beat-box.

Friday will terminate with an exciting session on the harmonic singing in the East and in the West, with two eminent representatives of the genre: Tran Quang Hai and Anna Maria Hefele. Lisa Angelillo will delight us over our social dinner with her show devoted to great female stars of the past.
Saturday will start with a section on specific diagnostic issues, like emergency problems in singing, problems of infant choirs, diagnosis of dysodias and management of post-surgery recovery. The social role of music and singing will be dealt with in a session titled "The hidden keys of the voice", with group experiences made by people with Down syndrome, oncological patients and detainees.

During the afternoon, a practical session by Michel Cerroni, vocal coach of the first edition of Notre-Dame de Paris, will be devoted to theatre music.

A broad session focusing on a cappella singing will follow, held by speakers such as Fausto Caravati, Anna Simioni, Ciro Caravano.
The meaning and practice of modern singing will open the Sunday morning session with the participation of, among others, Franco Mussida and Red Ronnie, and with a sub-session on ear-monitors and on the importance of sound technicians. The following session will focus on some peculiarities of speech therapy rehabilitation in singing.

In the afternoon, we will learn about contemporary cultured vocality in ancient and modern singing, with artists such as John De Leo and Nicholas Isherwood.

To conclude, an animated final session on "Voice effect", on the theme of voice effects and technology for the voice.

As usual, great stuff! We look forward to having you here. Make your reservation in advance!

We're waiting for you here, to give voice to the Voice!
Voce Artistica Mobile App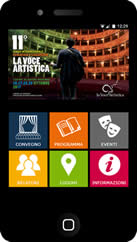 All information about the Voce Artistica 2017 conference in your pocket.
Participation certificates
Exhibits attending the course are expected to be issued
Place
Teatro Alighieri
Via Mariani, 2
Ravenna
Prices
UNTIL AUGUST the 8th
Medical doctors: € 430,00
(VAT INCLUDED)
Speech therapists, singers, singing teachers, artists, physiotherapists and other professionals: € 310,00
(VAT INCLUDED)
FROM AUGUST the 9th
Medical doctors: € 550,00
(VAT INCLUDED)
Speech therapists, singers, singing teachers, artists, physiotherapists and other professionals: € 370,00
(VAT INCLUDED)
2-DAYS FEE
Thursday Oct 26 and Friday Oct 27 OR Saturday Oct 28 and Sunday Oct 29
Medical Doctors: € 300,00
(VAT INCLUDED)
Speech therapists, singers, singing teachers, artists, physiotherapists and other professionals: € 220,00
(VAT INCLUDED)
ECM (Continuing Medical Education) credits will not be assigned for these partial-participation solutions
DOWNLOAD INFO