COURSE EXPIRED
Please contact us to book your stay to eventi@ravennaincoming.it
Dear friends,
we are pleased to inform you that the XII edition of the "La Voce Artistica" conference will take place in Ravenna from 10 to 13 October 2019!

We're waiting for you here, to give voice to the Voice!
Voce Artistica Mobile App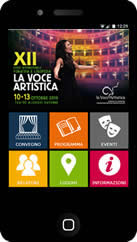 All information about the Voce Artistica 2019 conference in your pocket.
Participation certificates
Exhibits attending the course are expected to be issued
Place
Teatro Alighieri
Via Mariani, 2
Ravenna
Prices
Medical doctors: € 550,00 (VAT INCLUDED)
Speech therapists, singers, singing teachers, artists, physiotherapists and other professionals: € 380,00 (VAT INCLUDED)

2 DAYS FEE
Thursday Oct 10 and Friday Oct 11 OR Saturday Oct 12 and Sunday Oct 13
Medical Doctors: € 300,00 (VAT INCLUDED)
Speech therapists, singers, singing teachers, artists, physiotherapists and other professionals: € 220,00 (VAT INCLUDED)

ECM (Continuing Medical Education) credits will not be assigned for these partial-participation solutions